About Me
Hi, my name is Amy Sieberer
For as long as I can remember, I've been fascinated by peoples' faces; the feelings they convey in simple changes in expression, body language, and posture. I've been drawing portraits for 30 years and this mystery of the human image, and those of beloved animals, still continues to amaze me.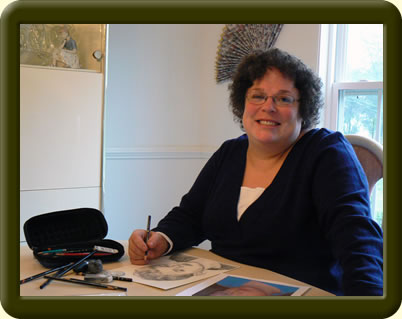 I am married to a wonderful man, my true love Eric, and we have two beautiful, amazing boys. They are incredibly gifted and have beautifully sweet souls. Their constant struggles with the highs and lows of Autism Spectrum Disorder, and their triumphs have garnered the respect and admiration of all who meet them.
I went to the Tyler School of Art to focus on developing my ability to capture my subjects in two dimensions. Though I strive for a rough form of realism, I incorporate a look of hand-crafted individuality to my artwork. My entry into the business of graphite pencil portraits was only realized in the fall of 2009. I completed portraits of my sons and my nieces and nephews as family presents, and was blown away by the overwhelming response to my finished projects. With the help of my older son's teachers, word began to spread and the desire for my portraits grew. Because of the responses my work generates, I am constantly striving to find "the spirit behind the face". To that end, developing a personal relationship to my clients is very important to me, and developing a connection to my subjects is paramount.
Please let me know if I can help you with anything. You can contact me through email, or by phone at 215.362.7087. I would be honored to work with you. Thanks again for visiting and I look forward to hearing from you soon!